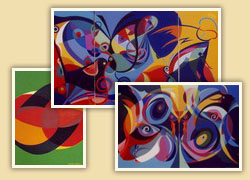 My Country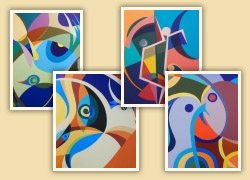 Images of British Columbia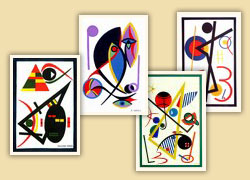 Geometric abstraction
Dagmar Karell was born in Hradec Králové. She studied Literature and the English language at the Faculty of Arts at Charles University in Prague and at the University of British Columbia in Canada.
D. Karell lives in the Czech Republic and has lived in Canada, Israel and Great Britain. While in Canada she worked as a reporter for CBC - Radio Canada International.
The inspiration for her paintings came from her travels through the USA, Mexico, Hawaii, Malaysia, Thailand, Singapore. The natural beauty of the Pacific coast of Canada and the native Indian Haida art of the west coast of British Columbia had the strongest impact on her work. Robert Genn, a well respected and famous artist, influenced by the "Group of Seven", instructed D. Karell in her abstract style.
D. Karell's artworks are in private and public collections in Canada, USA, Japan and Europe.
She has been a member of the Professional Association of Visual Artists since 2016.
Solo exhibitions in the Czech Republic :
1995 - The Unicorn with a Harp Gallery, Prague
1996 - Rondo Gallery, Hradec Králové
1996 - Commercial Bank, Hradec Králové
2000 - Oncology Pavilion, University Hospital, Hradec Králové
2001 - Klicpera Theater, Hradec Králové
2003 - Lichtenštejský Palace, Prague
2004 - Litomyšl Castle
2006 - Klicpera Theater, Hradec Kralové
2014 - Municipal Library, Týniště nad Orlicí
2016 - HK Philharmonic, Hradec Králové
2016 - Randls Training, Prague
2018 - PETROF Gallery, Hradec Králové
2019 - East Bohemian Theater, Pardubice
©2023 Petr Bláha
All texts, artwork and photos are copyrighted and may not be reproduced without permission of the author

Teacher of the English language in Hradec Králové - for details www.english-hk.cz

Bazoš automobily | Autoinzerce, povinné ručení